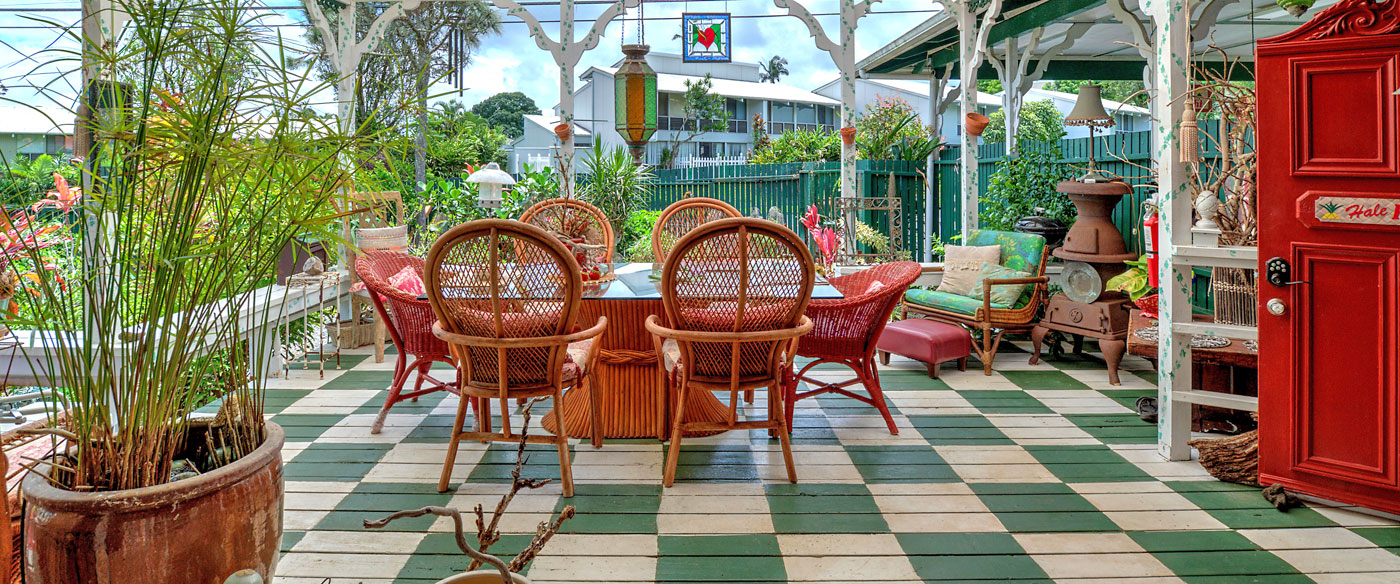 Reservations & Availability
Calendar Updated on 2023, December 05 at 08:20 am
December 2023
| | | | | | | |
| --- | --- | --- | --- | --- | --- | --- |
| Sun | Mon | Tue | Wed | Thu | Fri | Sat |
| | | | | | 1 | 2 |
| 3 | 4 | 5 | 6 | 7 | 8 | 9 |
| 10 | 11 | 12 | 13 | 14 | 15 | 16 |
| 17 | 18 | 19 | 20 | 21 | 22 | 23 |
| 24 | 25 | 26 | 27 | 28 | 29 | 30 |
| 31 | | | | | | |
January 2024
| | | | | | | |
| --- | --- | --- | --- | --- | --- | --- |
| Sun | Mon | Tue | Wed | Thu | Fri | Sat |
| | 1 | 2 | 3 | 4 | 5 | 6 |
| 7 | 8 | 9 | 10 | 11 | 12 | 13 |
| 14 | 15 | 16 | 17 | 18 | 19 | 20 |
| 21 | 22 | 23 | 24 | 25 | 26 | 27 |
| 28 | 29 | 30 | 31 | | | |
IMPORTANT: After you have completed your payment on PayPal, make sure to click "Return to Merchant" to complete the process.
Hale Kawehi Rates
Standard $170.00 per night plus tax
3 night minimum stay
Prices may change seasonally
Rates are based on double occupancy (2 Adults)
Accommodates: 2 adults maximum
Bedrooms: 1 bedroom w/ Queen bed
Bathrooms: 1.5
Check In: 3pm
Check Out: 11am

$55 cleaning fee
No security deposit
We accept all major credit cards via  PayPal
cash & travelers checks.
Gift Certificates are also available
Hale Kawehi
484 Kukuau St
Hilo, HI 96720
Email kawehicochran@gmail.com
Call 808-345-8084
Hawaii TaxID# W04912050-01
---
DEPOSIT:
Payment in full to hold reservation. Hale Kawehi accepts credit card and bank payments through PayPal.
CANCELLATIONS:
Cancel 30+ days prior to arrival for full refund using PayPal, personal c/c or by check and sent through mail.
VACATION RENTAL ACCOMMODATIONS:
Policies
Vacation Rental offers 1 bedroom with one (1) Queen bed. 1.5 bathrooms, full kitchen, living room, dining room and laundry service upon request. The space can comfortably accommodate up to 2 adults. Rates are for Double occupancy plus 17.96%  tax per night.
All occupancy rates are subject to change. State and local taxes apply.  Room rates given are for double occupancy (2 adults).
CHECK IN: Check in is 3pm, if you plan to arrive later than 3pm please let us know. 10pm check-in at the latest. Check out is 10am.  Hale Kawehi is open 365 days a year. 3 night minimum stay is required.
Check in requirements - Please sign the Rental Liability Waiver, present a photo copy of your passport or US driver's license & credit card (as required by insurance company). For security purposes only and information will be kept no more than 24 hours after checkout.
Self Check-in with key or security code. House Manual & Rules available with you welcome packet.
DEPOSIT: Payment in full to hold reservation. Hale Kawehi accepts payments through PayPal.
CANCELLATIONS: 30 day cancellation for full refund using PayPal, personal c/c or by check and sent through mail.
Host lives on estate with separate private entrance and living quarters. There is no sharing of public areas.
Guests privacy will be respected.
Feel free to ask your host about things to do and see, restaurant suggestions or questions about the history & culture of Hawaii.
Be aware that there may be some rainy days, but without rain there would be no rainbows.
If you are planning trips to higher elevations, (Volcano is 3,800ft, and the observatories are over 13,000ft) remember to bring some warm clothing.
Note: Hilo and surrounding areas have Coqui frogs. Tiny nocturnal frogs that sing\chirp at night.
Please contact your host prior to checkout.
If you need to contact the owner for any reason you can call or text 808-345-8084 or email at kawehicochran@gmail.com
Mahalo and have a wonderful visit and I hope you will enjoy my Hawaiian hale.
From Our Guestbook
An art installation dedicated to family love, Hawaiian style...
"This is the real deal, folks. In all my years of travel, never have I been so moved. Kawehi's home is literally an art installation dedicated to family love, Hawaiian style. You will experience a hum with a rhythm that took decades to create. If you are an artist, poet, critic or curator, you owe it to yourself to feel this home and its grounds. Kawehi is a Hawaiian folk artist and Hale Kawehi is a warm blanket."
-- Jason